Revision Face Lift before & After Photos
Oleh Slupchynskyj, MD, Board Certified Facial Plastic Surgeon
Revision Facelift Surgery Procedure Information.

Revision Facelift, SLUPlift
65 year old female who had facelift surgery by another surgeon in New York and complained that she still exhibited heaviness in the lower third of her face to include jowling and sagging skin at the neck.  Dr. Slupchynskyj's revision facelift – the minimally invasive SLUPlift – corrected the jowling and excess skin in the neck area creating a youthful jaw and neck line. The patient is 6 months post-operative.
Endoscopic Browlift, Revision Facelift, Rhinoplasty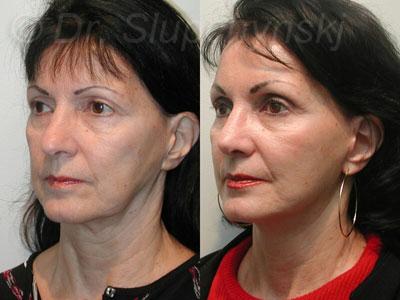 Revision Facelift Surgery Procedure Information.

Patients seeking facelift surgery in Manhattan visit the office of Dr. Oleh Slupchynskyj to receive leading-edge treatments, superior patient care and remarkable aesthetic results. Double board certified in facial plastic and reconstructive surgery and head and neck surgery, Dr. Slupchynskyj provides a full range of treatments, including Ear Surgery, mid-facelift and Lower and Upper Eyelid Surgery in NYC.