Lip Lift Surgery
Like all facial features, the lips are susceptible to unwanted changes due to aging. They can lose volume and change shape, and can also be affected by wrinkles around the mouth. When this happens, women in particular may become self-conscious about the appearance of their lips. Dr. Oleh Slupchynskyj offers revolutionary Lip Augmentation treatment techniques that go beyond the traditional injections and filler methods to produce beautiful, long-lasting and natural-looking results. Under his skillful urgical hand and keen aesthetic eye, many NYC lip augmentation patients have received the youthful, voluminous lips they desire.
What is Lip Augmentation Surgery?
Lip Augmentation Surgery at Dr. Slupchynskyj's New York practice is different from other Lip Enhancement procedures. Unlike other procedures which use temporary injectable fillers to create volume, Lip Augmentation Surgery is a permanent solution, which enhances a patient's own lips. Rather than use synthetic implants, Dr. Slupchynskyj raises the location of the upper lip, exposing more pink lip area and creating a broader, healthier looking smile. Dr. Slupchynskyj may supplement the final result using fillers such as Juvederm®; however, the most visible and attractive results come as a result of his unique surgical techniques. In addition, Dr. Slupchynskyj understands that bigger doesn't always mean better when it comes to Lip Augmentation. He takes time to evaluate other features of the face before performing Lip Augmentation Surgery so that he can create results that provide a balanced, youthful look.
How is Lip Augmentation Surgery performed?
Dr. Slupchynskyj uses several surgical techniques for Lip Augmentation in New York City. During a thorough pre-surgery consultation, he will evaluate the patient's existing lip shape, underlying dental work and jawline, and other facial features to determine which treatment approach is best suited for them. All Lip Augmentation Surgeries are performed under local anesthesia.
During the Gull Wing Lip Lift, Dr. Slupchynskyj makes an incision along the upper lip before slightly lifting the lip. This exposes more of the pink lip area, creating a fuller appearance. All incisions are made inconspicuously so as to minimize or even eliminate any scarring.
The Bull Horn Lip Lift
Technique is performed with incisions made at the base of the nose. Although the Bull Horn Lip Lift is performed by other surgeons, Dr. Slupchynskyj does not like this procedure due to the fact that this procedure can leave unsightly scars and many of them need to be revised. Whereas the Gull wing Lip Lift, if performed with meticulous precision, heals very nicely and restores the upper and lower lip aesthetic anatomy.
Lip Augmenatation
59 year old female from Bermuda who sought Dr. Slupchynskyj for Lip Lift Surgery.
The patient was unhappy with drastically thin upper and lower lips, as well as
pervasive vertical lip lines, known as "Smokers' Lines". Dr. Slupchynskyj performed
the Gull Wing Lip Lift, resulting in fuller and more youthful upper and lower
lips. Dr. Slupchynskyj eliminated her vertical lip lines through one dermabrasion
treatment. The patient is 3 weeks post-surgery and happy with her results.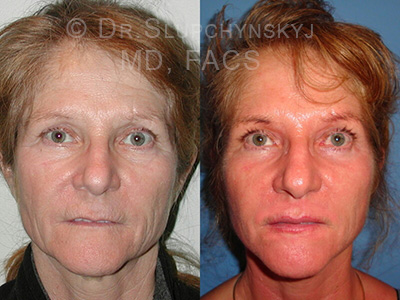 Lip Augmenatation
60 year old female complained of thinning upper and lower lips.
Using the Gull Wing technique, Dr. Slupchynskyj created naturally
lifted and fuller lips without the use of injectable fillers or implants.
This patient also had the SLUPlift™ mini facelift, an Endoscopic Browlift
and Blepharoplasty (Eyelid Lift). She is one month post-operative
and happy with results.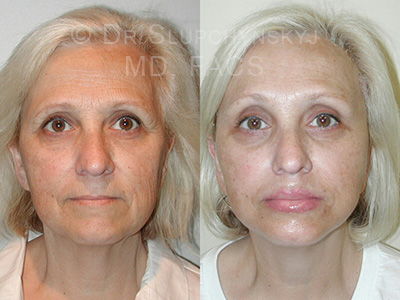 Lip Augmenatation
35 year old female unhappy with her naturally thin upper lip. She
requested a fuller upper lip, as well to have her Cupid's bow raised,
but wanted a permanent versus temporary result. Dr. Slupchynskyj
lifted her lip line through the Gull Wing Lip Lift procedure,
resulting in naturally fuller appearance without being overdone.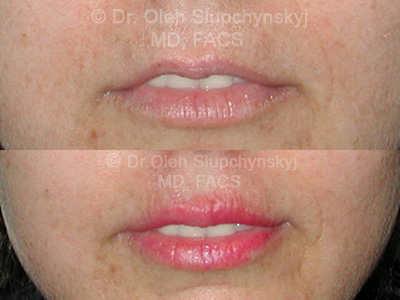 Recovering from Lip Augmentation Surgery
NYC Lip Augmentation patients experience minor swelling, stiffness and discomfort immediately following surgery. Dr. Slupchynskyj provides thorough post-operative instructions to all patients in order to ensure a quick, safe recovery. He will also prescribe medications to deal with any pain or risk of infection after surgery. Patients should apply cold compresses to the lips in the days after surgery. Most Lip Augmentation patients are fully recovered within 10 days of the procedure.
The Benefits of Lip Augmentation Surgery
Lip Lift Surgery can be performed on its own or as the final touch to a complete facial rejuvenation treatment. The procedure can restore a patient's youthful appearance and reduce or eliminate the appearance of wrinkles around the mouth. Dr. Slupchynskyj's approach to Lip Augmentation is especially beneficial because it is a safer, more natural-looking treatment. While Lip Implants can become displaced or lead to infection, Gull Wing and Bull Horn Lip Lift Surgeries eliminate this risk. In addition, surgical lip enhancement is a more permanent solution than injectable fillers or fat injections alone. The procedure can be completed in about one hour, but can make years' worth of difference in a patient's appearance.
Schedule a Lip Augmentation Consultation in New York Today
Dr. Oleh Slupchynskyj is a renowned New York City Lip Lift and Facial Plastic Surgeon. He takes great pride in helping patients enhance their appearance and self-confidence through aesthetic procedures. To learn more about how Lip Augmentation can help you, schedule a consultation with Dr. Slupchynskyj today by calling (212) 628-6464.