Facial Fat Transfer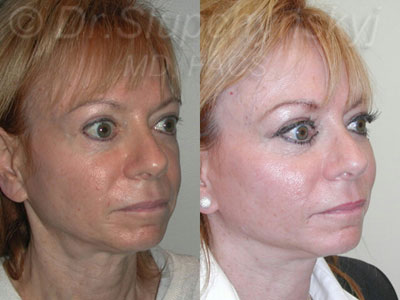 Female patient unhappy with loss of volume and the resulting
sagging of skin in her mid face and cheek areas. Dr. Slupchynskyj
harvested the patient's fat from her abdomen and then employed
his Fat Filtration technique. This technique ensures the optimal
amount of fat particles can be utilized and also maximum
survivability of the fat cells. Meticulous washing of the fat
allows use of the most viable fat cells for long-lasting results.
After Dr. Slupchynskyj injected the fat, natural appearing youthful
fullness and volume was been restored to this patient's mid face
and cheek areas.
Fat Cell Transplantation, otherwise known as Fat Transfer, Fat Grafting or Fat Injections, has been used over 15 years in Cosmetic Surgery to rejuvenate areas of both the face and body. Technology and research on fat cell transplantation has advanced considerably in the past five years, which translates to long lasting results.
Fat Cell transfer or Fat Transplantation is a non-surgical procedure involving a patient's own fat being transplanted to the face where volume has been lost due to aging. The patient's fat is harvested from the abdomen or another part of the body and is then injected (or transferred) to the face. Fat is excellent filler versus synthetic facial filler as it is your own tissue; it does not create allergic reactions and it lasts longer than synthetics.
Dr. Slupchynskyj has successfully performed fat Cell Transfers for over 10 years and is pleased to announce his new and advanced method for Fat Cell Transfer, which employs a proprietary Fat Grafting technique. Dr. Slupchynskyj incorporates the use of the PureGraft System™ developed by the Cytori Corporation utilizing a superior and unequalled method to clean fat cells efficiently and with increased reliability over other existing methods. The system incorporates technology that washes and purifies fat cells harvested from the body, ensuring high quality fat cell lobules within the harvested and transplanted fat. The fat cells are harvested in smaller quantities than before and are purified quickly for the use in other parts of the body or face. Fat cell viability is maintained which is critical to long lasting results.
In past years, the viability of fat cell survival during and after a fat cell transplantation procedure has been typically 50%, which means half of what is injected gets reabsorbed; so you may have to do it again to get the results you desire. The good news is Dr. Slupchynskyj's proprietary fat transfer technique delivers viable fat cells with reduced reabsorption and results showing 85 to 95% permanency.
Not all patients are candidates for Fat Cell Transfers and many will require surgical treatments such as Lip Augmentation, Facelift, Neck Lifts, Browlift and Blepharoplasty(Eyelid Lift) or Mini Facelift in New York City to address their extent of facial aging. Every patient has varying degrees of facial aging based upon their genetics, health and lifestyle. Fat cell transfers are an excellent adjunct to facial surgical procedures, or alone, to rejuvenate crucial areas which have lost volume and desired youthful contours.
Dr. Slupchynksyj is excited to offer this new technology with longer lasting and natural results exclusively to his patients. He will evaluate whether you are a good candidate for this innovative, non-surgical procedure and review all the benefits, alternatives and any risks.
Of note, the Cytori Corporation is also involved with fat stem cell harvesting. The fat transfer technology does not claim to transplant fat "stem cells" in the transfer, but it is hypothesized that stem cells exist within the harvested fat. They may secrete substances in the face contributing to even longer lasting and more progressive facial rejuvenation. While more needs to be learned and studies currently are underway, this proves to be very promising when it comes to reversing facial aging.