Mid-Face Lift Before and After Photos in NY
Oleh Slupchynskyj, MD, Board Certified Facial Plastic Surgeon
Midfacelfit Surgery Procedure Information.
Mid Facelift
65 year old female unhappy with jowling and Turkey Neck issues.
Dr. Slupchynskyj performed a Minimally Invasive Facelift procedure.
Patient is 6 months post – op.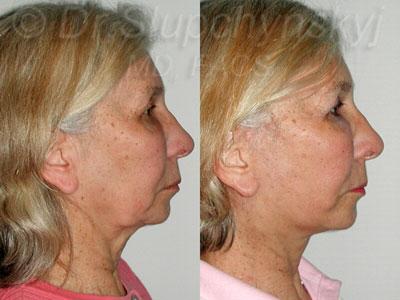 Endoscopic Mid Facelift
Facelift and Endoscopic Mid Facelift
This patient had and Endo Brow and Midfacelift prior to her
Lower Facelift. She returned 2 years later for Lower Facelift
and Necklift.

Facelift and Mid Facelift
This 52 year old female wanted to "freshen-up" her appearance.
She underwent a Mid Facelift and Lower Facelift to rejuvenate her
face. At the same time she wanted to change her nose and
underwent a Rhinoplasty.

Endoscopic Mid Facelift
Endoscopic Mid Facelift
Endoscopic Mid Facelift