Dr. Slupchynskyj in the Media
Dr. Oleh Slupchynskyj is a Double Board Certified Facial Plastic Surgeon in NYC who provides cosmetic and reconstructive procedures to patients throughout the United States. Dr. Slupchynskyj is widely regarded as one of the top surgeons in the United States, and as such has been featured often in the media. Browse through the articles and clips below to learn more about Dr. Slupchynskyj, the procedures he offers and his surgical approach. Contact his practice today at (212) 628-6464 to schedule a Facelift or Eyelid Lift consultation.
Oleh Slupchynskyj, MD, Board Certified Facial Plastic Surgeon
Nightline: In Pursuit of a Perfect Face, Some Fear Losing Ethnicity
Dr. Slupchynskyj was featured in Plastic Surgery Products Magazine. This potentially difficult surgery requires special surgical techniques and postoperative protocols Most Rhinoplasties are simple dorsal reductions, tip revisions, or both, and the "Closed" Rhinoplasty approach is adequate. However, many of the Ethnic patients in my practice are not ideal candidates for this procedure. Intricate cartilaginous, soft-tissue, and bony anatomies necessitate direct visualization for reconstruction of the tip and dorsum in most Ethnic Rhinoplasty. Read the entire article.

During this segment CBS News 2 followed Dr. Slupchynskyj into the operating room to film the procedure and show immediately after surgery the patient results.
"Now people tell me I look 20 years younger."
Cosmetic Surgery Times

"Achieving Facial Harmony"
Medical News Today

"New Development In African-American Rhinoplasty Proves To Preserve Ethnicity And Increase Self-Esteem"
Read this article
.
Winter, 2004
New York Magazine
Quest Magazine
"Cosmetic Procedures for Brides-to-Be"
February, 2003
Redbook Magazine
"Plump Your Pout"
January, 2003
Vogue
"Beauty Buzz"
April, 2003
Gotham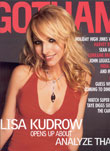 "All in the Aesthetics"
January, 2003
Time Out Magazine
Quest
November, 2002