Cheek and Jaw Implants NYC
Jaw and Cheek Implants
What helps a face age well? Good bone structure. Strong angles in a face, which include cheekbones and a strong jawline not only create beautiful symmetry and are the necessary underlying framework, which can hold a face up longer.
As we age, we naturally lose volume in our cheek area. Soft tissue in the cheek area, (i.e., cheek pads fat and muscle), diminish over time and slide down resulting in heaviness in the lower third of the face. Jowling, deep naso-labial folds and downturned corners of the mouth are all noticeable at this stage. High cheekbones and a strong jawline can help keep everything pulled up better and longer.
For those of us not born with classic bone structure, and that includes most of us, Cheek Augmentation Surgery (Malarplasty) and Jaw Augmentation (Mandibular) Surgery have become extremely popular with Dr. Slupchynskyj's patients. When you augment the cheek area, you immediately decrease nasolabial folds, turn the corners of the mouth up and add a beautiful frame around the nose and eyes. Enhancing the jawline creates a more youthful, sculpted and defined jawline resulting in more proportionately balanced facial features.
Cheek and Jaw Augmentation Surgery are permanent solutions to improving one's facial architecture. Temporary fillers like Restylane®, Perlane and Sculptra® can fill in the cheek area nicely; however, keep in mind treatments will need repeating every eight to twelve months. "The implants I use are not only natural looking but natural feeling to the touch," reports Dr. Slupchynskyj. "I use only FDA-approved synthetic materials or biological materials for Cheek and Jaw Augmentation, neither of which cause an allergic reaction. The implants conform best to the bones. The surgery is safe and effective and the implants are designed to last a lifetime. They can of course be removed for any reason."
Dr. Slupchynskyj's preferred Cheek Augmentation technique involves an intra-oral approach. That means the incision is made inside the mouth beneath the muscle, not in the patient's hairline or intra-ocular (through the lower eyelid). There is no visible scarring and oral incisions heal quicker.
Dr. Slupchynskyj's Jaw Augmentation technique also involves an oral approach with incisions made inside the mouth, on either side of the lower lip. Pockets are created in which the implants are placed. The implant is always shaped to match your specific jaw line. Dissolvable sutures are used to close the incisions and there are no visible scars in this case.
Dr. Slupchynskyj does not perform Cheek Augmentation or Jaw Augmentation Surgery under heavy General Anesthesia – only under Local Anesthesia (numbing the area) and light sedation. Each procedure lasts about an hour and is performed on an outpatient basis. Results are immediate and it is not unusual to experience a little swelling and some bruising, which typically subsides in five to seven days.
Chin Augmentation NYC
40 year old African-American male requesting stronger chin.
Dr. Slupchynskyj performed a Chin Augmentation, using an
extra large square Chin Implant under Local Anesthesia.
Chin Augmentation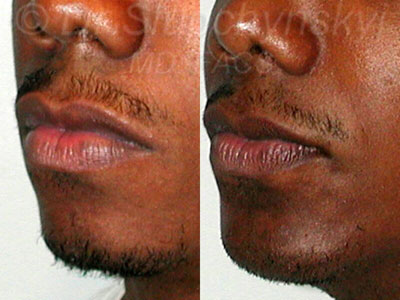 30 year old actor requesting a stronger chin. Dr. Slupchynskyj inserted a square
Chin Implant through a submental incision in the sub-periosteal plane. This ensures
chin angle conformity and decrease chances for movement.
Cheek Augmentation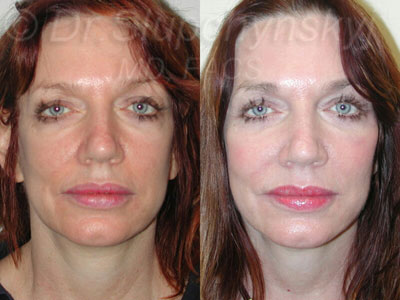 Mid 50s female Cheek Augmentation with Implants.